NuWave Precision Induction Cooktop 2 (PIC2)
Best Offer On NuWave PIC2
Originally $129.95… Now Only $99.99
FREE 9" PerfectGreen Fry Pan…A $29.95 Value
FREE Shipping (in Continental U.S.)
Special Offer on PerfectGreen Fry Pans
The PerfectGreen Fry Pan is perfectly designed for use on your NuWave PIC2, as well as traditional electric and gas stoves.
See Pan FAQ's tab below for more information
10.5" Fry pan MSRP $39.99
Precision NuWave 2 Portable Induction Cooktop
The NuWave PIC2
The Next Generation in Portable Induction Cooking!
Taste of Home KITCHEN APPROVED™
The NuWave PIC2 has been designed with a variety of cooks in mind—those who want more control when they cook, busy moms who want dinner ready (and waiting) after soccer practice, chefs who want to create perfect sauces, fun-loving folks who prefer to take the party (and cooking) outdoors, and those who want to finesse a tableside dessert or need a banquet/catering warming station. (Fondue, anyone?) But the PIC2's many safety features make it perfect for budding young cooks as well as independent-minded seniors who have become a little wary of cooking and kitchen fires.
If you're used to cooking on traditional gas or electric stove tops, you know it's hard to get the temperature just right and hold it there--whether you're cooking pancakes or frying potatoes. With the NuWave PIC2, you can cook your favorite foods with precision, every time. Simply choose one of the six pre-set temps or press the button to adjust the temp in 10-degree increments, for a total of 52 settings!
The PIC2 is much more than a cooktop! The wide range of temperatures and programmable features allow you to boil, simmer, deep-fry, stir-fry, sauté, steam and sear, slow cook, barbecue, melt and grill. Check out the many user-friendly features that make the PIC2 so efficient, versatile, safe, and fun to use.
Convenient & Easy to Use
The PIC2 practically does the thinking for you!
• Six pre-set temperature settings for most cooking needs
• Temperature range from 100°F to 575°F, with the flexibility to adjust in 10-degree increments
• Large, easy-to-read, user-friendly LED display with universal "+" and "-" keys to adjust temperature
• 100-hours programmable memory (time and cooking function) with a "Delay" option
• Automatic shutoff when induction-ready pan is removed from the base or when cooking time is completed
• Lightweight, portable, circular design
• Uses up to 70% less energy than conventional gas or electric ranges
• Built to last, engineered to be your most popular kitchen appliance for 13–15 years
• Lifetime Membership to the exclusive, online Precision Cooking Club (videos, recipes, tips, and tricks from the NuWave Culinary Team)

FREE BONUS!
9" PerfectGreen Fry Pan - A $29.95 Value!
Designed for use on the NuWave PIC2, as well as traditional electric and gas stoves. This fry pan is even oven-safe for up to 450°F. The ceramic, environmentally friendly non-stick coating allows you to make all your favorite foods without adding any extra fat or oil. Even if you accidentally overheat your pan, the safe, non-stick technology means you don't need to worry about toxic fumes, and the coating itself will not blister or peel. Just the right size for individual omelets, small dinners, and more.
Healthier, Delicious Cooking
Now everyone can become savvy, health-conscious eaters! And enjoy good food, too! The ability to set and maintain a consistent temperature makes it easier to cook healthier meals by sautéing, steaming, and stir-frying. These cooking methods help maintain the nutritional value of our foods, and the end result is often more appetizing and flavorful. For those who love fried foods, being able to control oil temperature is everything. Too hot, it smokes. Not hot enough, foods end up greasy. With the PIC2's precise temperature control, the oil doesn't overheat, your foods absorb less oil, are perfectly fried, crispier and healthier. After preparing over 100 pieces of fried chicken, the NuWave test kitchen found the remaining oil to be relatively clear and usable for the next time! So reusing the frying oil saves the grocery budget, too! The PIC2's claim to promote a healthier diet is backed by scientific data produced in a study conducted by Northland Laboratories. In a controlled test, oil samples were collected after cooking with conventional gas and electric stove tops, as well as the NuWave PIC2.
Traditional electric and gas stove tops don't have precise temperature controls, so it's tricky to prepare some foods correctly. Here are a few examples with their optimal cooking temperatures:
• Olive Oil (350°F)
• Pork Chops (275°F)
• Root Vegetables (185°F)
• Butter (110°F)
• Beef Stew (375°F)
• Broccoli (185°F)
• Chocolate (120-140°F)
• Hard Boil Egg (275°F)
• Chicken (250°F) (in order to reach 165°F internally)
• Cheese Fondue (185°F)
• Green Vegetables (275°F)
Designed with Safety in Mind
Induction cooking is safer than traditional gas or electric cooking methods because there's no open flame or hot coils. But beyond that, the PIC2 has been designed and tested in the extreme. From the internal mechanisms to the exterior, it's all about security and peace of mind.
The ceramic glass surface of the PIC2 is as sleek as it is durable. Engineering trials, including a heat shock test at 760°F, produced no breakage after 10 hours of cooking. Rapid cooling tests produced the same results. The NuWave PIC2 holds several patents pending, including one for its cutting-edge ventilation system. Other induction cooktops are manufactured with inferior components that increase the risk of breakage or user injury.
Extreme testing has shown that even a paper or cotton towel placed atop the surface of the NuWave PIC2 will not catch fire, and other safety-promoting features include an automatic shutoff feature—especially desirable in homes where pets, children, and elderly individuals reside. The PIC2 even boasts a 1 in 1,000 trillion rate for component malfunctions that could lead to a home fire hazard.
With the NuWave PIC2, induction cooking has been made even safer.
What sets the NuWave PIC2 apart from competitors?
• State-of-the-art induction cooking at a low, affordable price!
• Portable, precise temperature control with the press of a button, with user-friendly features that save time and money for busy cooks.
• Wider temperature range (100–575°F) for a broader variety of cooking functions. Most competitor models boast a range between 140–420°F and are unable to achieve and maintain the optimal temperature (460°F) for grilling favorites, like steaks, burgers and hot dogs. With the PIC2's ability to climb as high as 575°F and hold that temperature consistently, the unit is tailor-made for year-round, all-weather barbecue festivities.
• 52 temperature settings.
• 100 hours of programmable memory and performance. Other induction cooktops offer only 2 hours of cooking capability with no temperature regulation at the maximum setting.
• 50% quieter than the noise emitted from other induction fans, and the PIC2's fan shuts off once cooking is complete.
• Round design is more space-efficient and easier to clean.
• More efficient, versatile, safe, and enjoyable.
Additional Taste of Home Kitchen Approved Tools
NuWave Precision Induction Cooktop 2 (PIC2)
NuWave Pro Infrared Oven
Microplane® Etched-Blade Graters - Set of 3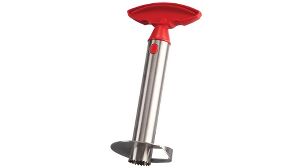 Vacu Vin Stainless Steel Pineapple Slicer