Great Offer on NuWave Pro Infrared Oven
Originally $139.99…… Now Only $119.99
FREE Extender Ring Kit…A $44.95 Value
FREE Shipping (in Continental U.S.)
FREE

Extender Ring Kit ($44.95 Value) Includes:
3" Extender Ring
10" Non-Stick Baking Pan
2" Cooking Rack
Specially designed for NuWave, this kit increases the capacity of the oven by 50% allowing you to cook up to a 16 lb. turkey or 14 lb. ham. It also allows for multi-layer cooking…cook your meats and vegetables at the same time, saving time and cleanup.
NuWave Pro Infrared Oven
With Triple Combo Cooking Power

The NuWave Oven Pro takes advantage of Triple Combo Cooking Power to cook foods quickly and deliciously. It uses conduction heat, just like a conventional oven, convection heat, which circulates hot air around the food, and infrared heat, which penetrates food, cooking on the outside and inside at the same time. The NuWave Oven Pro allows you to bake, broil, barbecue, roast, grill, steam, sear, and air-fry all in one convenient appliance. With its unique design, the NuWave Oven can make your favorite foods even healthier. The elevated cooking rack allows fats and oils to drip away from foods, while the natural juices remain. Everything from healthy chicken and vegetables to decadent foods such as bacon and fried chicken comes out healthier in the NuWave Oven.

The NuWave Oven Pro is incredibly convenient. The easy-to-use power head is so intuitive that all you have to do is touch and go. Plus, with the exception of the power head, all parts are dishwasher-safe, making cleanup a breeze. You'll save time and money with the NuWave Oven too. It uses 85% less energy than a standard oven while cooking up to 50% faster than a standard oven. Plus, you can cook foods directly from frozen, so there's no need to defrost foods or wait for a conventional oven to preheat. The NuWave Oven also comes with unrivaled customer support and free resources such as lifetime membership to the online NuWave Cooking Club. This invaluable tool features recipes, tips and tricks from the NuWave Culinary Team, designed to help you make the most of the NuWave cooking experience!

Since being introduced in its current form in 2003, the NuWave Oven Pro has consistently been the top selling countertop oven in the world, with nearly 3 million Ovens sold. This hasn't happened by chance. NuWave Oven users get a simple, yet rewarding cooking experience that is second to none.

Convenience
The NuWave Oven is incredibly user friendly and convenient. It's compact enough to fit right on your countertop, yet powerful enough to cook a full meal for the entire family. The lightweight and portable oven can cook just about anywhere. It's perfect for cramped dorm rooms, RVs, or even your hotel room. Plus, it's incredibly easy to operate. With a simple press of a button, the NuWave Oven can perform several different cooking functions, all in one compact, convenient countertop oven.

• To steam: cover food, sprinkle in a little water and seasoning.
• To air-fry: coat food with wet mix and roll in cornflakes or bread crumbs. You can also rub in olive oil or spray with cooking spray for additional browning.
• Leftover fried foods will come out of your NuWave crispier than the first time.
• To broil: place food closer to heating element.
• To roast: place food further from heating element and lower the power level.
• To dehydrate: cook on lower Power Levels and remove immediately to remove extra moisture.

Advanced Technology
The NuWave Oven uses three separate cooking methods at once to cook foods quickly without sacrificing taste. A sheath heater in the power head heats the air around the food using conduction heat, much like a traditional oven. At the same time, a specially designed fan circulates the hot air around the food for faster cooking and even browning. This is the convection heat. Meanwhile, the NuWave Oven uses patented heating rods that generate far infrared heat, a form of gentle, invisible, radiant heat, to cook foods on the inside and outside at the same time.

All of this technology means that the NuWave Oven will cook your food far more efficiently while using less energy than a standard oven. Because the NuWave Oven's infrared heat cooks foods on the inside and outside at the same time, there's no need to defrost, so you can cook foods directly from frozen. Plus, because it heats up so quickly, you'll never have to waste time and money on your utility bill preheating your oven. In fact, studies have shown that the NuWave Oven cooks many common foods roughly 50% faster than a standard oven.

In addition to cooking 50% faster, the NuWave Oven also uses up to 85% less energy than a standard oven. It's able to accomplish this by using only 1500 watts of power, as opposed to conventional ovens which can use between 2500 and 4000 watts. Plus, because there's no need to preheat and the heat generated by the NuWave Oven is contained within the NuWave dome, so your kitchen stays cool, even during the hot summer months.

Healthy Cooking
In addition to trimming down your utility bill, the NuWave Oven can also help cut down on your waistline. With its unique design, the NuWave Oven allows foods to cook on an elevated grill, allowing fat and oil to drip into the liner pan, away from the food. And thanks to the combination of conduction, convection and infrared heat, the NuWave Oven allows food to releases up to 250% more fat drippings than a conventional oven.
In addition to containing fewer fats and oils, food cooked in the NuWave Oven also contains less harmful chemicals than food cooked in a conventional oven or on a gas grill. The NuWave Oven's maximum temperature is 342°F. Most conventional oven's cooking temperature is usually set at 375-425°F while gas grills often exceed temperatures of 500°F. This is important because studies show that cooking at 374°F produced over 8 times the carcinogens, or cancer-causing materials, as compared to cooking at 302°F while cooking at 446°F resulted in nearly 20 times the carcinogens.

Additionally, the NuWave Oven is RoHS compliant. To be RoHS compliant, the materials and toxicological profiles of the product must contain a concentration of less than 0.1% of Lead (Pb), Mercury (Hg), Cadium (Cd), Hexavalent Chromium (Cr-Vl), Polybrominated Biphenyls (PBB), and Polybrominated Diphenyl Ethers (PBDE). The NuWave Oven liner pan is also PTFE and PFOA free.

Customer Care
The best part about owning the NuWave Oven is its unrivaled customer support. Every purchase comes with a free lifetime membership to the NuWave Cooking Club. You'll be granted access to dozens of great recipes, videos, tips and tricks for your NuWave Oven. You can even interact with fellow NuWave users, or you can personally contact Chef Bobby and the NuWave Culinary Team with questions, comments and suggestions!


Additional Taste of Home Kitchen Approved Tools
NuWave Precision Induction Cooktop 2 (PIC2)
NuWave Pro Infrared Oven
Microplane® Etched-Blade Graters - Set of 3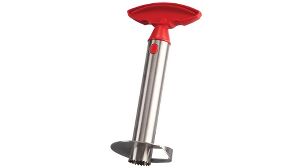 Vacu Vin Stainless Steel Pineapple Slicer